Protection of Witch-Hunting: A Tale of Modern Age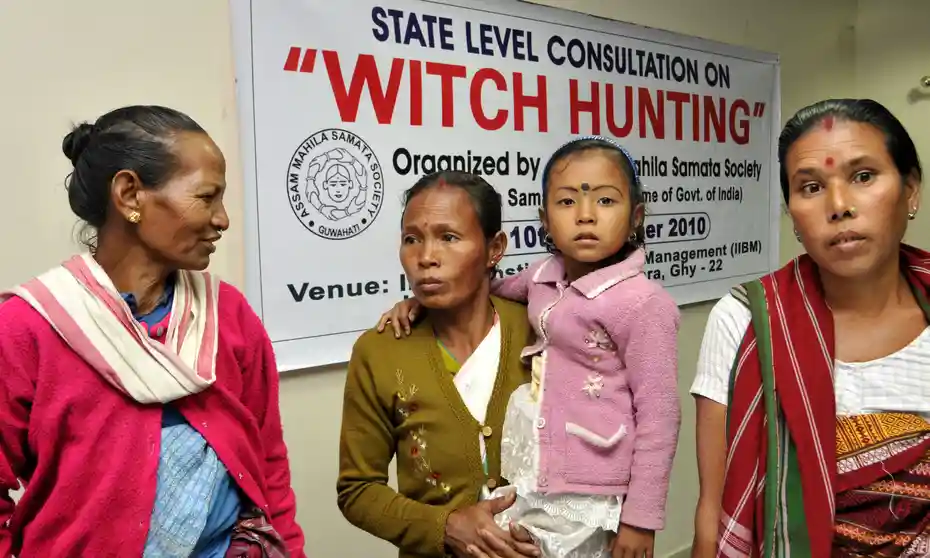 TABLE OF CONTENTS
Understanding of the Terminology 'Witchcraft' 2
Identifying of the 'Real Victim' 4
'Witch-Hunting' in Indian Scenario. 4
'Witch-Hunting' in Odisha & Protection Afforded. 5
Burgeoning Of 'Witch-Hunting' 6
Passing through the different stages of human progression, it can be noticed that the human beings have evolved to establish themselves as one of the most complex organisms currently existing on earth. Among the numerous changes leading to this entitlement of being the most 'complex being', the most radical and crucial in the process of evolution was the rapid development of carnial capacity with the appearance of bipedalism.[1]this has led to rapid development of several 'brain-related' activities among humans. This progression sparked accomplishments like – coming up of new means of communications (sign languages), rapid improvement of tools., etc. which made humans stand out distinctive from other animals.[2]
In this progression, there were certain hurdles as well such as bad weather conditions, natural calamities, diseases, epidemic, death, etc. which have paved the path for origin of faith in super natural powers which are considered to be superior to humans. This led to coming up of 'religion' and 'magic' among humans.[3] If placed contrastingly, religion was supplicating in nature – in which powers were revered and pleased for preventing negative circumstances, whereas magic on the other hand, aimed at controlling over such powers, for causing benevolent and malevolent influences. The practices leading to socially acceptable good motives were referred as white magic, whereas the negative ones were labelled as black.[4]
Among the numerous black magic activities, witchcraft developed a prominent occult praxis, which was often held accountable for negative situations like disease, physical deformities, famine, bad crops, deaths and other detrimental stances. Characterised to be spiritual, divinatory and mystic in nature, it is to this day, omnipresent in almost every human community in earth since the beginning of human existence, whose social structure incorporate reverence towards supernatural realms.[5] Although often used interchangeably with black magic – witchcraft, as a standalone religion cultural practice – incorporates like divination, spell casting, sorcery, enchantment, necromancy, shamanism, demonology and mysticism. It is largely purported as the practice wherein supernatural powers are called upon by certain rites and techniques, for malevolent usages.[6]
This research paper assesses the philosophy of 'witchcraft' by reviewing various literatures for better understanding of the term and to understand the cause of 'witch-hunting' by identifying the real 'victims' and 'perpetrators'. Thereafter, this paper elaborates the legal protection afforded by the country in general and the protection afforded for witch hunting in the state of Odisha in particular and finds out whether the legal protections so afforded are serving their purpose. This paper concludes with an assessment of the effectiveness of the legal instruments so implemented for protection of 'witch-hunting'.
Etymologically, the term 'witchcraft' is a compound of two words 'wicce' and 'craft' wherein the word 'wicce' derives its own origin from the old English word 'wicca' which refers to 'witch' and 'craft' denotes 'skill or ability'.[7] Considered to be concomitant with deleterious actions and opposed to the publicly accepted benevolent goals of religion, it is supposed to be one of the several means through which the 'evil's' agenda of inflicting unfavourable influences, is advanced.
Owing to its perceived negative intents, witchcraft is popular as a 'wicked' practice and is often looked upon with pessimistic impression. People associated with witchcraft are often accused of causing detrimental impacts and hence, less socially acceptable and even socially ousted. It has been well depicted, documented and believed that witchcraft has mainly been practiced mostly by females.[8] Owing to its feminine affiliation, the practice has been widely known and popular as 'witch-craft' and not its ale counterpart which can be said as 'wizard-craft'. Females practicing this craft are often portrayed and attributed as 'ominous looking scary females, brandishing broomstick and doing chores that are considered to be 'wicked' and malevolent.[9] Alleged of causing detrimental influences, such women are trailed, branded as 'witches' and thereafter hounded, banished, flogged, raped, burnt alive and in most of the cases, ruthlessly murdered. These trails and hunting have existed as socially acceptable tools for weeding out the anti-social, mala fide intention driven witches from the society.[10]
Witchcraft, in some form or the other, has been a prominent socio-religious phenomenon in almost all existent communities of the globe. Faith in its actuality and presence, has been unmoved in societies and religions, across the world. It is validated by evidences from the Old Testament, New Testament, Protestant Culture, Babylonian societies, Hebrew Bible, Jewish Culture, Islam, Hinduism and almost all the documented indigenous communities of the globe. Geographically also, witchcraft is almost omnipresent as evidently marked by documentations, paintings and other testimonies emanating from African, American, European, Middle East, South Asian and Island nations.[11]
In instances of witch hunting, the notion of 'victim' and perpetrator is quite bewildering i.e. who is the victim and who is the perpetrator? Does not come out very clearly.[12] In fact, the cognition of victim and perpetrator is quite antagonistic among the 'insiders' and 'outsiders'. Here 'insider' include the people who live in the village/community/society/place; whereas 'outsiders' are those who are unknown to the accused witch and are not the resident of the concerned place.
For 'insiders' one who brings harm to the community is the 'perpetrator' and the persons who suffered the burnt is the 'victim'. By this analogy, the accused witch is the 'perpetrator' and the individual who are inflicted with ill effects of the evil powers of the witch is the 'victim'. In order to curb the cause of the misfortune and to prevent any further damages, the 'insiders' resolve to ex-communicate, ousted or killed is seen as the 'victim' and the people (the 'insiders') who are involved in this act are perceived as 'perpetrators'.[13]
Amidst its global footprint, the practice of witchcraft has been prevalently customary in India as well, especially among the rural and relatively isolated precincts, which also happen to be the adobe of indigenous/tribal people.[14] It is widely believed that the witches, who are mostly females, manipulate the perceived evil supernatural powers to cause detrimental and inauspicious events such as destruction of crops, ill health of villagers, death of nearby children especially children, etc. The culpability of anything bad is written off upon her and thereafter she is subjected to mass anguish and outrage, often leading to adverse inhuman treatment, comprising of ostracizing, banishment, hounding, rape, burnt alive and even execution. This traditional customary practice of weeding-out of the cause of perceived evil by eventually murdering/killing the alleged witch, is witch hunting.
Though there are many national as well as state legislations implemented to protection of witch hunting yet the inhuman practice of witch-hunting prevails in several states in India, including Jharkhand, Odisha, Chhattisgarh and Assam, mainly in the tribal areas. The social evil has long vanished from most parts of the world, barring India and some African countries. Examples of such legislations protecting witch hunting are Constitution of India, Indian Penal Code, The Scheduled Castes And Scheduled Tribes (Prevention Of Atrocities) Act, 1989, The Protection Of Human Rights Act, 1993; The Protection Of Human Rights (Amendment) Act, 2006, The Odisha Prevention Of Witch-Hunting Bill, 2013.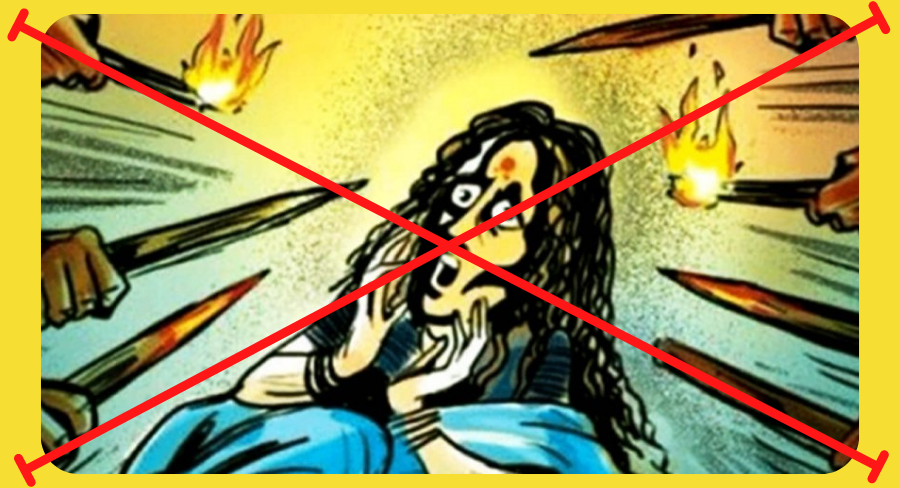 Though the State of Odisha made rapid strides in different spheres, witchcraft, a social evil arising out of superstitions still has strong roots in tribal pockets. It is evident from the national crime records Bureau's report of 2016 which had placed Odisha in the second place after Jharkhand for witnessing the bizarre practice in the modern society. The NCRB report said a total of 24 murders were reported due to witch hunting in the state.[15]
Further, Odisha Crime Branch (CB) on Friday informed that 99 cases of witch hunting were registered in the State in 2017 compared to 83 in 2016 and 58 in 2015. According to CB officers, maximum number of witch hunting cases were registered in Mayurbhanj, Nabarangpur and Keonjhar districts. Crime Branch ADG Santosh Upadhyay pointed out that murder cases related to witch hunting in the State had, however, declined in 2017 compared to 2016. "About 18 murder cases related to witch hunting were registered in 2017 against 25 in 2016.[16]
Significantly, the state government promulgated Odisha Prevention of Witch Hunting Act 2013 to check witchcraft. Last year's most sensational witch hunting was reported in Jharsuguda in March where two college girls allegedly killed another girl to cure her illness through sorcery.
It was also said by the secretary of the Odisha Rationalist society that "in many cases, men were also attacked and killed after being branded as witches". Further, he alleged that the police in tribal areas have failed to implement the Odisha Prevention of Witch Hunting Act.[17]
In communities where witchcraft is rampant, it is profoundly believed that 'witches' use magical powers to attack the fertility capacity of humans, cause harm to domestic animals, destroy crops, fly through night to engage in cannibalism, incestuous acts etc. They are usually perceived to cause misfortune, sickness and even death by casting 'evil eye'.[18] Due to such deleterious capabilities, witches are considered as threat to community members and are often looked upon with fear as suspension. For countering this, socially recognised sorcerers perform magic for identifying the witch responsible for such misfortunes.
Deeply embedded in the socio-cultural milieu, the sorcerers are believed by community members to possess special powers which can counter the malevolent activities of witches. Once it is confirmed that the disease/illness or any other misfortune occurring in the community, has occurred due to its ill influence of a particular witch; the matter no longer remains restricted merely to the victim's family members. It rather becomes a public affair.[19] To curb the cause of the menace, destroying the alleged witch (either by killing her or by inflicting severe punishments upon her) has emerged as the pre-eminent solution, internalised by community members. This notion, by and large sets the tone for thriving of witchcraft across the country.
The very basic assumption behind the formulation of specialised anti-witchcraft laws is flawed. It is just a check-mechanism and should not be taken as 'sufficient response to the problems originating in the society due to evil practices, irrationality or suspicion.[20] Such legislations cannot end superstitions, provided redressal to victims or inject scientific approach and rationality in the community. These legislations also do not take into account a) the conditions under which such practices flourish, b) the gaps in existing laws, c) the mode of reporting of cases, d) the investigation carried after reporting, and e) the emergent needs of the victims. Hence, a more social approach must be adopted than just being strictly legal.[21] Also majority of witchcraft cases are never taken to the police or court. even if taken, more than half are dismissed due to lack of proper investigation, absence of witnesses, minor punishments to the perpetrators or compromise between the victim and the perpetrator. Due to the aforementioned conditions, anti-witchcraft laws are unable to achieve their desired spirit and purpose for which they were legislated.
---
[1] Seth, S. (1993), 'New Perspective in Anthropology', M.D. Publications, p.27-48.
[2] Ibid
[3] Frazer, J.G. (1998), 'The Golden Bough: A Study in Magic and Religion', Oxford World's Classics, Oxford Publications, p. 27.
[4] Ibid.
[5] Varner, G.R. (2007), 'The Dark Wind: Witches and the Concept of Evil', Lulu Press, p. 16-17.
[6] Adinkrah, M. (2015), 'Witchcraft, Witches and Violence in Ghana', Berghahn Books, p. 1-19.
[7] Dilts, M.R. (2015), 'Power in the Name: The Origin and Meaning of the Word 'Witch'. Available at: https://www.academia.edu/12416396/Power_in_the_Name_The_Origin_and_Meaning_of_the_Word_Witch_ (accessed on 08.01.2020).
[8] Karlsen C.F. (1998), 'The Devil in the Shape of a woman: Witchcraft in the Colonial New England', W.W. Norton and Company, New York.
[9] Oblau, C.W & Wrogemann, H. (2015). 'Witchcraft, Demons and Deliverance', LIT Verlag Münster, p. 75.
[10] Shaffer R. (2014), 'Modern Witch Hunting and Superstitious Murders in India, Skeptical Inquirer', Volume 38.4. Available at: https://skepticalinquirer.org/2014/07/modern_witch_hunting_and_superstitious_murder_in_india/?%2Fsi%2Fshow%2Fmodern_witch_hunting_and_superstitious_murder_in_india (Accessed on 08.01.2020).
[11] Alam, S. and Raj, A. (2017), 'The Academic Journey of Witchcraft Studies in India', Man in India, Vol. 97(21), p.123-138.
[12] Konwar, J.G. and Swargiari, D. (2015), 'Conflicting Idea of 'Victim' and 'Perpetrator' in Witch-Hunting: A Case Study in the State of Assam, India', The International Journal of Humanities and Social Studies, Vol. 3 Issue 5, pp. 132-139.
[13] Ibid.
[14] Saletore, R.N. (1981), 'Indian Witchcraft', Abhinav Publications, New Delhi.
[15] National Crime Report Bureau (NCRB) Report 2016. Available at: http://ncrb.gov.in/StatPublications/CII/CII2016/pdfs/NEWPDFs/Crime%20in%20India%20-%202016%20Complete%20PDF%20291117.pdf (Accessed on 08.01.2010).
[16] 'Witch hunting cases show a rise in Odisha', The New Indian Express, Published on 25.02.2018. Available at: https://www.newindianexpress.com/states/odisha/2018/feb/25/witch-hunting-cases-show-a-rise-in-odisha-1778558.html (Accessed on 08.01.2020).
[17] Mohapatra, D. (2018), 'Witch-Hunting Continues Undebated in Tribal Pockets of Odisha', Published on 23.02.2018. Available at: https://timesofindia.indiatimes.com/city/bhubaneswar/witch-hunting-continues-unabated-in-tribal-pockets-of-odisha/articleshow/63043374.cms (Accessed on 08.01.2020).
[18] Joshi, P.C., Kaushal, S., Katewa, S. & Devi, O.H. (2006), 'Witchcraft Beliefs and Practices among Oraons', Studies of Tribes and Tribals, Volume 4(2), p. 145-149.
[19] Ibid.
[20] Mehra, M. and Agarwal, A. (2016), 'Do We Need Special Laws? Witch-hunting' in India?', Economic and Political Weekly, Vol. 51, Issue No. 13, 26 Mar, 2016. Available at: https://www.epw.in/journal/2016/13/special-articles/witch-hunting-india.html (Accessed on 08.01.2020)
[21] Ibid.