Centre Asks Vodafone Idea to Convert Dues Into Equity.
Centre Asks Vodafone Idea to Convert Dues Into Equity Worth Rs. 16,133 at Rs. 10 Each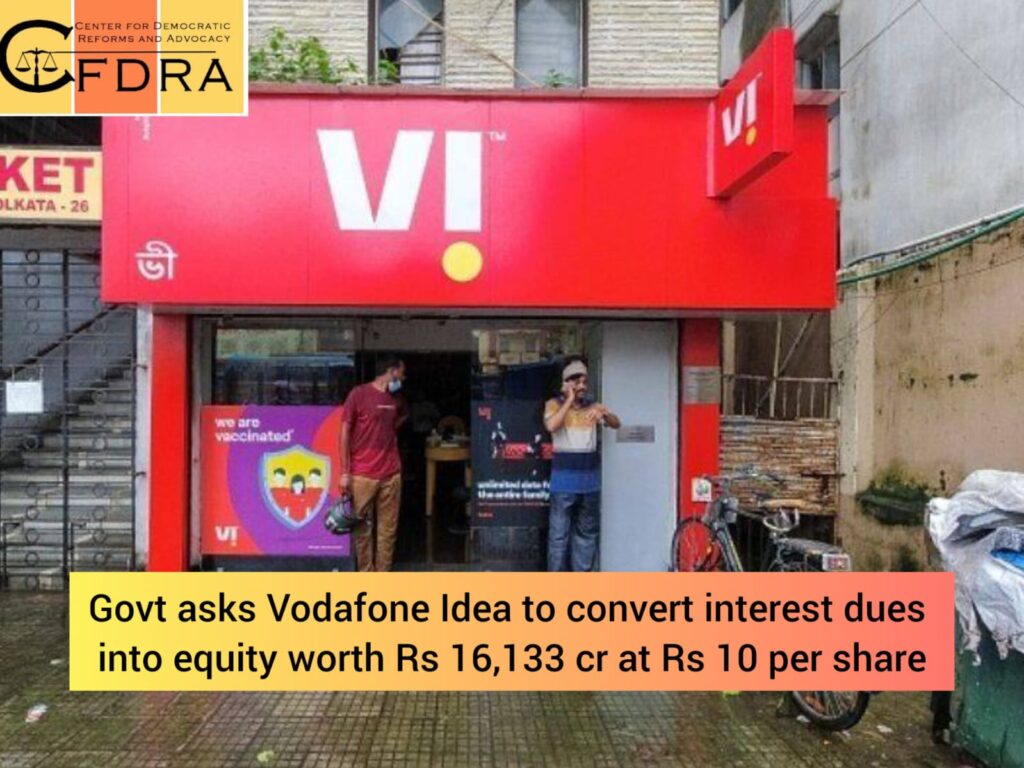 According to a stock exchange statement by the telecom company Vodafone Idea, the government agreed to convert interest dues into equity on Friday. The government ordered Vodafone Idea to issue shares worth Rs 16,133.1 crore at an issue price of Rs 10 per share, the company claimed on Friday. The telco is responsible for paying all fees associated with using the airwaves, including interest on payments for spectrum. The net present value (NPV) on the interest on the spectrum and adjusted gross revenue (AGR) on postponed statutory dues were calculated by the telecom department last year and came to Rs 16,133.1 crore.
Prior to this, VIL had said that the government would receive an interest in the company equal to about 33% of the dues converted into equity. "We wanted a strong guarantee that the Aditya Birla Group would manage the business and provide the necessary funding. Birlas concurred, so we decided to convert. We want BSNL to be the fourth player in the Indian market, creating healthy competition for customers "said Ashwini Vaishnaw, minister of telecom.
According to the filing, "the Ministry of Communications…passed an order today, February 3, 2023…directing the business to convert the NPV of the interest connected to deferring spectrumauction instalments and AGR dues into equity shares to be distributed to the government of India."1613,31,84,899 equity shares with a face value of Rs. 10 each must be issued by the corporation at a price of Rs. 10 per share.
The government's reforms package, released in September 2021, includes the assistance for the company. On Friday at the BSE, shares of VIL finished at Rs 6.89 per share, up 1.03 percent from the previous close. The conversion of Vodafone Idea debt into equity was given the go-ahead by market regulator SEBI in October 2022. A rescue plan for cash-strapped telecom companies was approved by the Centre in 2021, enabling them to convert interest on postponed adjusted gross revenue owed to the government into equity. The advent of Mukesh Ambani's Reliance Jio rocked the telecom industry in India, and the sector's problems were made worse by significant debts owed to the government. The Supreme Court granted telecom companies 10 years, or until 2031, to pay their debts. Vaishnaw had stated last month that conversations were ongoing regarding Vodafone Idea's requirements, which included a financial infusion.
Vodafone (Idea) requires a lot of things. It has a specific capital requirement. How much money will they inject, and who? At present time, all of those topics are being discussed. Capital is required, and it must come from a variety of sources. Simply put, the business is not in need of conversion. Capital is needed. Vaishnaw had added," All of those things are a complex matter.
According to the most recent data released by telecom regulator TRAI, the company has 24.3 crore mobile users, accounting for a market share of 21.33 percent. VIL is the sole telecom provider that hasn't placed any orders for 5G service equipment and has had trouble paying its vendors' bills.
Indus Towers made a provision for doubtful debt worth Rs 2,298.1 last month due to VIL's problematic balance sheet. It is currently in the process of issuing up to Rs 1,600 crore in optionally convertible debentures to seller American Tower Corporation to settle its debts. The company's total gross debt, excluding lease obligations and including interest accrued but not due, was Rs 2,20,320 crore as of September 30 of current year. Due to the challenging market environment and significant debt on its balance sheet, the company has made numerous attempts to acquire funds from investors but has always been successful.