Gujarat High Court Sentences Godman Asaram Bapu to Life in Jail and Fines him Rs. 50,000
INTRODUCTION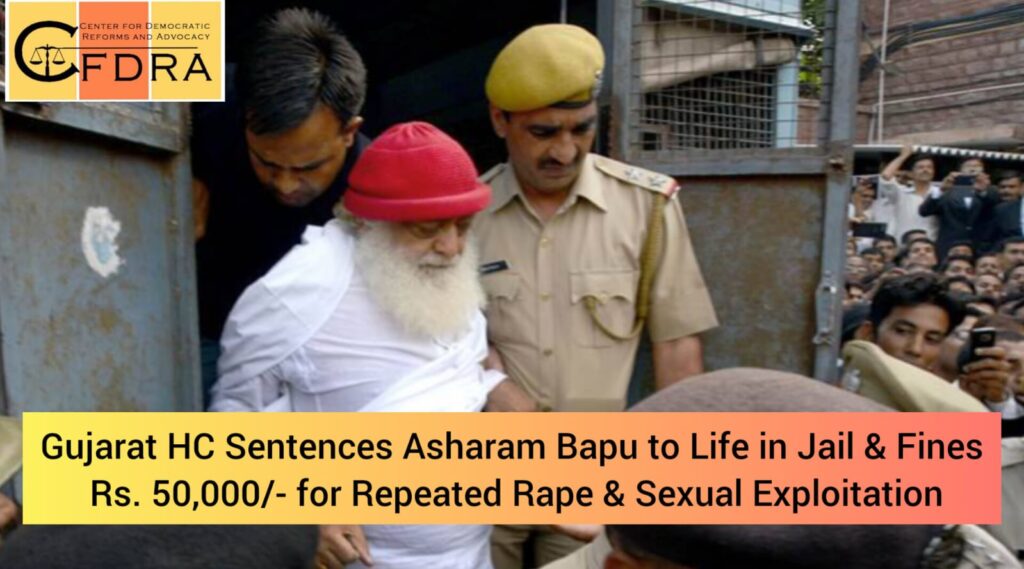 Gujarat High Court Sentences Godman Asaram Bapu to Life in Jail and Fines him Rs. 50,000
for Repeated Rape and Sexual Exploitation
Gandhinagar sessions court sentenced self-styled godman Asaram Bapu to life imprisonment in connection with 2013 rape case filed by a victim who stayed at his ashram, near Gandhinagar, in Gujarat. The court has also imposed a fine of Rs. 50,000 on him.
The prosecution claimed that Asaram Bapu was a "habitual offender" and asked for life in prison as well as a significant fine during the hearing on the sentence's length. After hearing the arguments, Sessions Court Judge D. K. Soni sentenced the defendant to life in prison and fined him Rs. 50,000.
The 81-year-old self-described godman, who has a sizable fan base and hundreds of ashrams, is currently incarcerated for the rest of his life in a facility in Jodhpur for the 2013 rape of a young girl at his ashram in Rajasthan. He attended the trial on 31 January 2023 via a video link, just like he had done for all these years.
On January 30, a Gujarat court convicted him, more than nine years after a former devotee of Asaram Bapu filed a rape complaint against him during her previous stay at his ashram.
It may be remembered that Asaram's son Narayan Sai raped and illegally imprisoned the victim's younger sister. In April 2019, a Surat sessions court condemned Sai to life in jail in the rape allegation filed against him by a former disciple in 2013.